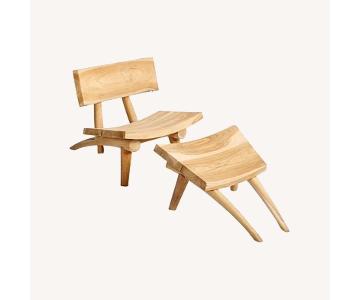 Mobs Dakota Chair and Footstool
This item is no longer available
Mobs Dakota Chair and Footstool
Est. retail: $1,400
|
34% off
|
Set of 2
---
Product details
Seller's Notes: NEW! Wooden structures lounge chairs never fail to impress with clean lines and elegant shapes. Dakota teak chair and footstool set from Muubs is the perfect symbiosis between art and craftsmanship. Designed to express a story, it is also a chair to create stories for ourselves and share them with others. Combining the armchair with the teak footstool creates an almost sculptural element in the home. The teak armchair set invites you to lean back and enjoy a cozy moment. The teak wood is one of the strongest and resistant to rot and weather type of wood. In addition, the high oil presence in its structure has made teak one of the favorite lumber types for the production of boats and furniture. All those teak wood features make the Dakota chair highly durable both inside and outside. The chair features a curved backrest, curved seat, and a wide footrest. Create your own extra comfort by decorating the teak lounge chair with lambskin or perhaps a cushion. Dakota invites you to curl up in the chair with your favorite book and a cup of coffee after a long day.
Brand: Other Finds
Condition: New: Product hasn't been unwrapped from the box
Overall Dimensions: Width: 26.57 inches, Height: 29.33 inches, Depth: 68.7 inches
+ Read more...
Sustainability Impact
By purchasing this item, you're contributing to a more sustainable future.
Click to Learn More
Ready to start selling?
Create a listing
Meet our delivery team
Our delivery team does more than move furniture - they're here to support customers and make the process of buying, selling and moving furniture easy. They make what we do possible.
Learn more about our delivery team