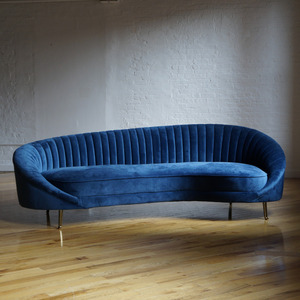 Serpentine Modern Sofa in Blue Velvet
This item is no longer available
Serpentine Modern Sofa in Blue Velvet
Est. retail: $4,500
|
33% off
|
Qty: 1
|
---
Product details
Seller's Notes: Monroe sofa is the ultimate statement piece, inspired by the iconic actress of the same name. Endless curves trace the mid-century modern design with subtlety and drama. Beyond beauty, the design is incredibly functional, easily seating 2 couples, and the curved bench points everyone inward, making the sofa very conversational. The curved back allows Monroe to be perfectly situated on an angle or in odd living room corners. After the initial "wow" moment of seeing Monroe in person, showroom visitors are happy to feel how comfortable Monroe is (Not your grandma's stiff couch!) Monroe, like all of our sofas, is built to last with a solid wood frame and durable, easy-to-clean velvet (dish soap and warm water). For additional longevity, Monroe has two hidden middle legs that twist to the perfect height to provide additional support for years to come. Keep out of direct sunlight to avoid fading Blot spills immediately Click here for more care instructions Try before you buy! Make an appointment to visit our Brooklyn showroom. Pair with Monroe chair or our new line of accent chairs.
Brand: Other
Manufacturer Link: https://brooklynspace.co/products/monroe?variant=40782025...
Condition: New: Product hasn't been unwrapped from the box
Overall Dimensions: Width: 98 inches, Height: 32 inches, Depth: 42 inches
+ Read more...
Sustainability Impact
By purchasing this item, you're contributing to a more sustainable future.
Click to Learn More
Ready to start selling?
Create a listing
Meet our delivery team
Our delivery team does more than move furniture - they're here to support customers and make the process of buying, selling and moving furniture easy. They make what we do possible.
Learn more about our delivery team